To watch a video tutorial for this article, click here.
As an Administrator within PRIVIT, one of the first responsibilities is to create the teams for the athletes to join. We highly recommend creating all teams within the school/organization. Within Manage Teams, Administrators are able to create, edit, copy, and retire teams.
Creating New Teams
Step 1: Click Manage Teams from the home page
Step 2: From the Manage Teams page, click the Create New Team icon.
Step 3: Enter the required information, which is indicated by a red asterisk.
A team can be selected from the drop down of choices or a team can be typed in.
Description: playing level, gender of sports, ect. can be indicated.
Year: the year of the team can be indicated.
NOTE: The Year field can only hold up to 6 characters. Depending on the length of the description field, it may distort the screen view, depending on the screen resolution.
Step 4: Click Create. The new team should be listed within the Manage Teams page, and this process can be repeated to create all necessary teams for the athletes to join.

Team Passwords
When creating a team, there is an option to assign a password before joining the team. Typically creating a password for a team is not used because athletes need to enter a password before joining the team.
If a password is assigned to a team, be certain to include the password in the communications to parents and athletes. In this example, the Lacrosse team will be given the password 'Lacrosse2017.'
Helpful Hint:
When creating the teams, they will be listed alphabetically. In addition, any team that requires a password will appear with an asterisk inside [*] next to the Team Type.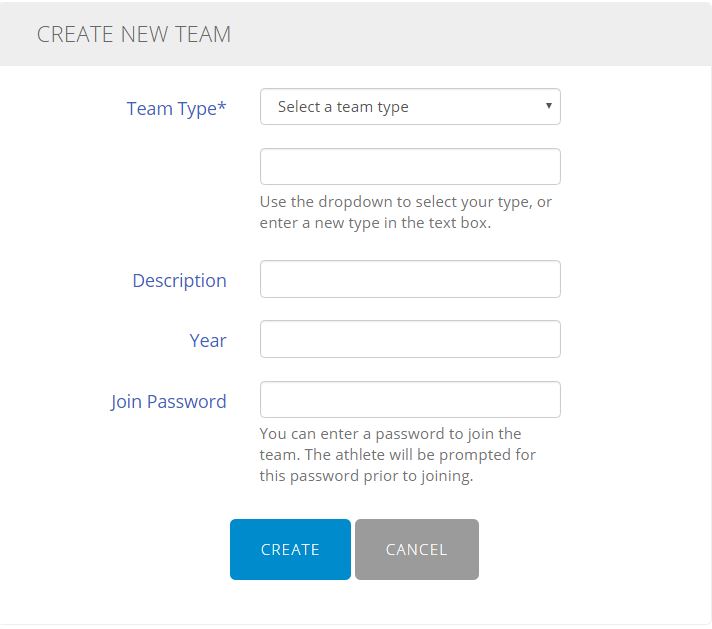 Editing Teams
To edit a team, find the team and in the same row, click on the Edit or pencil icon. The Edit Team page is similar to creating a new team. On the Edit Team page, update the necessary fields and click Update.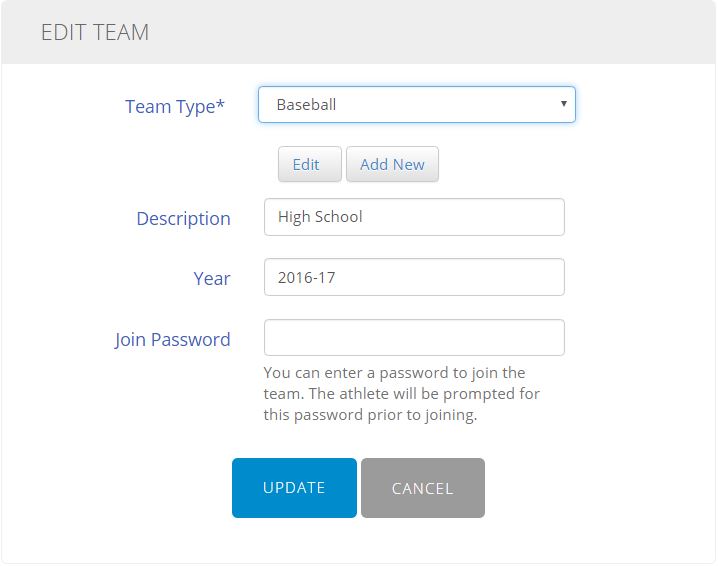 Team Staff
From the Manage Teams page, Administrators are able to assign roles to staff members for a specific team by clicking on the Staff icon.