Physical Expiration Dates/Notification
If applicable, the athletes' physical date and physical expiration dates can be tracked by staff members. Before using this feature, it must be turned on by an Administrator in the Manage Organization area.
The steps below allow an Administrator to turn on the Physical and Expiration Date feature:
Click on Manage Organization from the home page.
Click on the Settings tab
Click the checkbox next to the Physical Date & Expiration Date option.
Be certain to click Apply after checking the box. 
After clicking apply, click OK to return to the home page. 
*If you want the Physical Expiration Date Notification on, we recommend contacting your account manager or call our help center directly at 844-234-4357.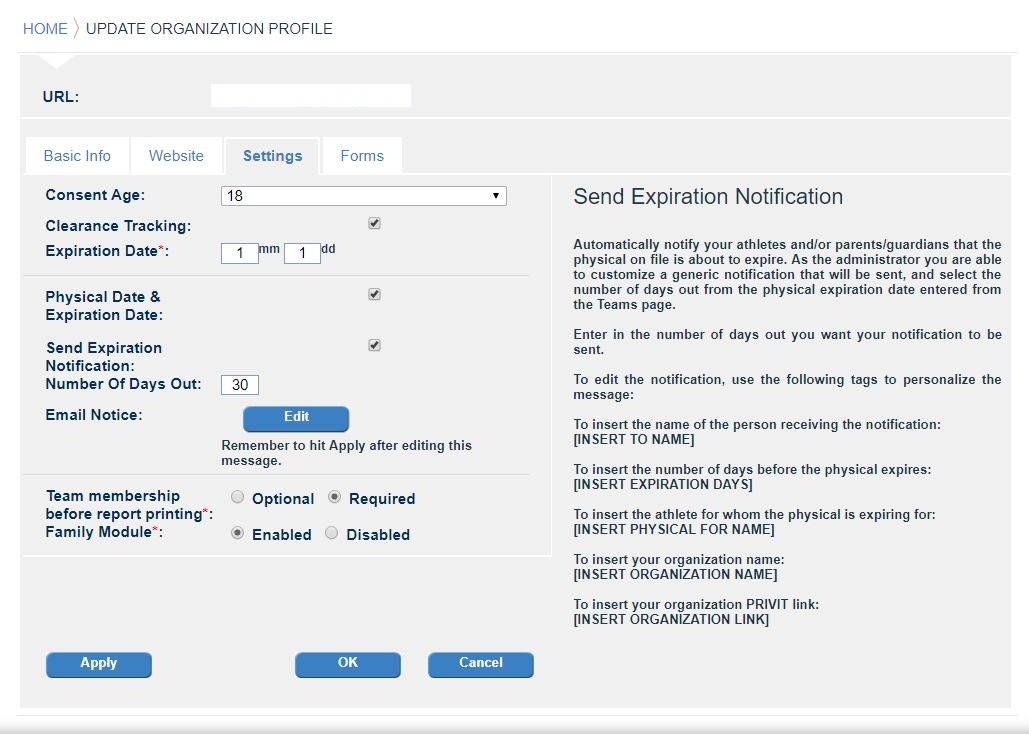 Follow the steps below to use the Physical and Expiration Dates feature:
Click Manage Teams from the home page.
Click Members.
Click the Date box under Physical Date or Physical Exp. Date.
Choose the Year first, Month second, then Day when entering the dates.
NOTE: Only staff members with the Administrator, Medic, and Coordinator roles for a school/organization can enter these dates for athletes. However, all staff members can view these dates. Also, the date columns can be sorted to view upcoming physical expiration.
Depending on the setup within PRIVIT, the Physical Date and Expiration Date are defined as:
Physical Date: should be the date the athlete received their physical from the physician.
Physical Exp. Date: should be the date that the athlete's current physical will expire.
Important Note: Parents/guardians and students/athletes are not able to view or edit these dates. Also once the feature has been enabled, team members must first log in prior to editing dates.