How do I delete a added member from my account?
To delete a member from a account, click the name of the member on the left side of your home page. From the member's home page, scroll to the bottom of the page and you will see the Delete Profile button.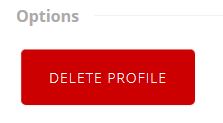 You will be asked to confirm that you want to delete the profile, then click "Delete Profile".
If you do not see the Delete Profile button, that means that you are attempting to delete a primary account. Only Privit Support Team will be able to delete primary accounts. To reach the Privit Support Team, please call 844.234.4357 or click here to submit a request.
Please note: The profile that you remove will not be recoverable. All associated information, including documents, for that profile will be deleted.